The Best Cellular Trail Cameras
If you, like us, are a bit crazy about cameras, you might already be familiar with trail cams.
They are certainly not a new thing, as they've been around since the '80s.
But everything from the '80s seems to be going through a bit of a renaissance these days.
And meanwhile, game trail cameras are enjoying the benefits of modern technology such as secure wireless internet and blazing-fast 4G (soon to be 5G).
This begs the question: what are the best cellular trail cameras – and which one should you get?
Let's find out!
Best Overall
4G LTE Cellular Game & Trail Camera
Fantastic wireless features
Excellent quality
Easy to use
Best Budget
Wireless WIFI Game Trail Security Camera 32MP Picture 1296P Video
Excellent battery life
Great features for the price
Fast trigger speed
Review: The 9 Best Cellular Trail Cameras Money Can Buy Today
Below you'll find our current, hand-picked selection of the best cellular trail cams available on the market right now.
We'll provide a brief, practical overview, list the biggest pros and cons, and answer the most common trail camera questions.
Without further ado, let's dive right in.
---
The A390G camera uses a reliable 4G LTE cellular module and high-gain antenna to work with AT&T or T-Mobile cellular networks (U.S. only) for better coverage.
The camera can send pictures directly to your mobile phone from the field according to the schedule you programmed.
The A390G camera comes with a dedicated free app and a free sim card. There is no activation fee.
The camera operates on 8 AA batteries (not included) and a standard-size SDHC/SDXC card up to 512GB (SD card not included).
The app allows you to quickly set up your camera, activate it, check the camera status, and manage your field images.
You can also request HD images or videos on demand (order plan separately in the app).
The camera has superior night vision with 940nm no-glow infrared technology, adaptive illumination technology to avoid overexposure or over-dimmed images, and a range of up to 100ft.
Other excellent features include a built-in 2.4" color display, fast 0.1 trigger speed and 0.5s recovery time, IP66 waterproof housing, and compact design.
Check Price
---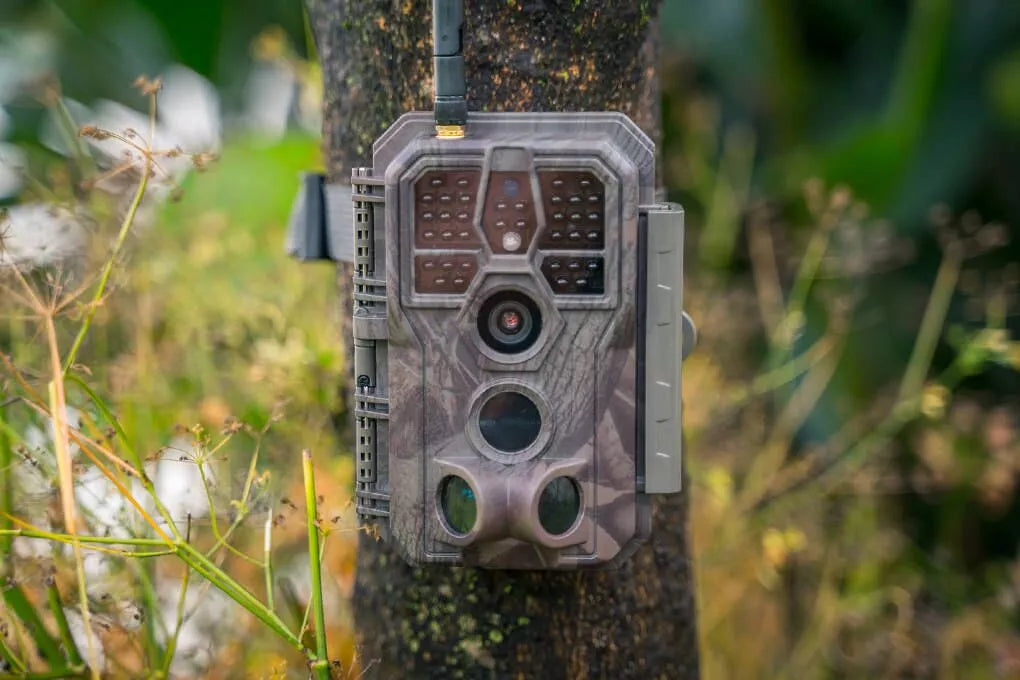 The Blaze Video A280W is a new-generation trail camera that comes with a built-in Wi-Fi connection for added convenience.
With this camera, you can set it up near your campsite or access it remotely if you don't wish to disturb it.
This camera also has a unique wireless WiFi & Bluetooth connection that allows you to operate your camera through your cell phone and send pictures from the trail camera to your phone.
This camera also captures crystal clear, perfect 32MP pictures and HD 1296P videos.
Check Price
---
It's not entirely without reason that the Spartan GoCam is amongst the top favorites with users – and on the top of our list.
The device is a full-featured, wireless scouting camera that performs great and is easy to use.
There are smartphone apps available, but no option to transfer video wirelessly.
Spartan has obviously put effort into making the GoCam 4G nearly invisible by giving it a practical camo exterior.
This makes the GoCam the perfect cellular game camera for the trail.
Also, it really ups the ante on the wireless features. The only thing left to be desired is video transmission.
The GoCam cellular trail cam is solidly built, and the antenna has enough give to avoid snapping.
However, it's powered by AA batteries – which can quickly become cost heavy.
Especially if not using rechargeable cells.
A set of batteries should last several months before the charge capacity degrades too much.
This is due to the non-stop wireless functionality of the camera.
All in all, the Spartan GoCam is widely accepted as one of – if not the best cellular trail camera. 
We Like
Fantastic wireless features
Excellent quality
Easy to use
We Dislike
Runs off of 12 AA batteries
High price tag
No wireless video transmission
---
Depending on your concrete use case and technical needs, the Covert Blackhawk is definitely worth considering as a powerful yet intuitive trail camera.
The strong suit of the Blackhawk is its easy-to-use app, which the users love. It even shows the camera's battery life. 
But that's not all.
Another key feature the Covert Blackhawk offers is infrared flash with a 100-foot range.
This enables bright photos without scaring off game.
The camera also has MaXimum Silence Image Capture to help it live up to its name.
With all those fantastic features, what's the catch?
The image quality of the Blackhawk trail camera is notoriously fuzzy.
The 20MP files get compressed down to 5Mp on their way to the app.
This means that if crisp hi-res game photos are what you need, you should consider other options.
With that out of the way, the Blackhawk offers excellent features and good flexibility – for example, the number of AA batteries installed.
It takes 4, 8, or 12 of them.
Furthermore, there is even optional solar power running on rechargeable batteries.
We Like
Great mobile app
Good signal strength
LIghtning-fast notifications
GPS feature
We Dislike
Photo quality iffy via app
Often sold out due to demand
---
The next item on our best trail cameras list is none other than the GlassRaven LTE from Creative XP.
Its inconspicuous exterior is entirely water and snow-proof, and there is even an optional metal bear box available.
Now you can monitor anything from water sources to mineral licks and game trails – straight from your cell phone.
On the inside, the GlassRaven 4G LTE cellular trail cam doesn't disappoint, either.
The camera offers HD video and can send footage and photos within a minute from capturing them.
The infrared sensor has a 110-degree angle, and there are no less than 57 built-in invisible LEDs to ensure excellent motion detection and image quality no matter the time of day. 
The manufacturer, Creative XP, is so confident that they even offer a lifetime warranty on the GlassRaven LTE.
While this camera is by no means cheap, you get what you pay for.
However, there are a few issues that hold the product from absolute perfection.
And those are the average-ish battery life and lack of support for Verizon users.
In all fairness, though, the option for solar power mitigates the former.
We Like
Instantly sends uncompressed footage and photos
Quick & Easy setup
Life warranty
Image quality
We Dislike
Average battery life
A bit on the expensive side
No support for Verizon SIM card
---
Do you need a trail camera that lets you scout game and perform property surveillance without ever worrying about batteries?
In that case, the Spypoint Link-S got you covered. That's thanks to the built-in solar panel.
Alternatively, the camera can run off a power adaptor or standard AA batteries too. 
Practically infinite power is not the only Ace of the Link-S Solar Powered Trail Camera.
The camera also allows for remote viewing of photos and videos.
Furthermore, Verizon customers will be pleased to know that the product supports their sim cards.
There is even an optional 100 photos/month plan, too.
Like many of the cameras in this review, the Link-S cellular game camera also has a wide PIR angle and a 100-foot range.
It also supports an SD card of up to 32GB. 
What's there not to like?
Well… If you are after 1080p HD video quality, this device is not for you. It offers 720p, though.
As for photos, the Spypoint Link-S dishes out 12MP photos, which is sub-par relative to other offerings in this price range.
Ultimately, whether this game camera is for you comes entirely down to your priorities.
We Like
Can run perpetually of solar power
Options for power adaptor or batteries
Supports Verizon
Good mounting options
We Dislike
Image quality could be better
No live transmission via mobile app
---
If you just need basic functionality without too many bells and whistles, you might want to consider the Scout Wireless Pro from Browning.
Coming from a household name in the trail camera market, you can rest assured that you're getting a reliable cellular camera for video surveillance or game scouting. 
The Browning trail camera offers best-in-class battery life of up to 10.5 months, which is around a 4 x improvement from its predecessor, Defender.
Coupled with 900p and 18MP image quality, the camera offers a good mix of performance and value.
It's priced at only 199$ as of writing. 
Contrary to the Spypoint Link-S, the Scout only works with AT&T.
And keep in mind that it won't take existing cards – instead, you'll have to buy a plan through Browning.
On the bright side, that's one less mobile service provider to deal with. The plans start at 9.99$ per month.
While the field of view is no more than 42.6°, there is a 90-foot range and a fantastic detection circuit to ensure that you capture exactly what you're after – every time.
We Like
Excellent battery life
Great features for the price
Fast trigger speed
We Dislike
Only Lithium battery support
Exclusive to AT&T
No internal viewing screen
---
Next, let us have a close look at yet another Spartan product – the Ghost 4G camera.
The first thing that meets the eye is the exterior design which features a camo look.
There is a detachable antenna and a 12-Volt external battery jack.
Alternatively, the Spartan Ghost 4G Blackout GoCam takes 12 AA batteries.
As for the internal specs and features, the Ghost offers a 5.5-month battery life, which is impressive, to say the least.
Furthermore, the unit produces good-quality footage and photos, especially considering the moderate resolution of 8MP.
Although it won't come anywhere close to your DSLR, it is more than adequate as a feeder camera or for usage by a bait box.
However, if you need a reliable camera for the game trail, you'd be better off choosing a device with faster detection.
The Spartan Ghost camera offers a 70 ft. range and a detection angle approximately 10° smaller than its FOV. 
The unit is available with a wide range of Verizon plans.
There is a free mobile Spartan camera management app that enables easy setup and use from your Android or iOS device.
Depending on your concrete use case, the Ghost could be a great choice – but be mindful of the relatively slow detection circuit, which leads to sluggish trigger times.
We Like
Solid case design and features
5.5 months battery life
Picture quality considering the resolution
We Dislike
The detection circuit is far from the best
Stuck to Verizon
---
Lastly, we should mention the Stealth Cam GXATW, as it is the most inexpensive option on this list.
While it doesn't quite match up against the more premium trail cams in all areas, the value is unbeatable.
As the name implies, the GXA is a stealthy unit with 42 invisible infrared emitters. 
This means image capture in total darkness, without spooking of game.
Users report great functionality and months-long operation – but remember to adjust the camera settings for optimal performance.
Upload frequency, image quality, and activity all have a drastic impact on battery life.
Although this particular model of The Stealth Cam GXA is for AT&T, it's also available in a Verizon version.
As long as you have 3 or more bars of coverage, you can expect excellent connection quality.
Just keep in mind that cell tower upgrades tend to make the cam skip uploads – but the content is still saved to the memory card.
Although you might want to invest in a bear box with the Stealth Cam GXA, you can expect to save hundreds of bucks on fuel and vehicle wear.
Not to mention the time savings, too. Best of all, the GXA can sometimes be found online for as little as 180$, excluding any discount.
We Like
Blazing fast second trigger speed
Long-range
HD video with audio
We Dislike
---
FAQs: Frequently Asked Questions About Cellular Trail Cameras
What Is a Cellular Trail Camera?
A cellular trail camera is a device similar to a regular trail camera.
The added functionality consists of transmitting data via mobile networks.
This enables operation and image capture over distant and inaccessible areas, opening up new possibilities and enabling significant time and cost savings.
Where Can I Use a Cellular Trail Camera?
In essence, you can use a cellular trail camera in any location that has a sufficiently strong cellular signal.
Of course, it can run in a complete blind spot, too – but then there is no way for you to interact with it remotely.
Furthermore, having a solid connection tends to have a positive effect on the camera's battery life.
Can I Use My Current Network Provider?
It depends. Some cameras will accept both a Sprint, Verizon, and AT&T sim card.
However, other trail cams are only available with an included data plan from a specific network provider.
This means that if a given network has the best coverage in the area you need, it's wise to choose a solution that supports the concrete mobile provider.
Keep in mind that many cameras are available as both AT&T and Verizon options.
Do Trail Cameras Have Good Battery Life?
Some cameras are compatible with solar power or a constant power source via an included adaptor.
Others rely strictly on a built-in rechargeable battery.
Or, more often than not, on AA batteries – single-use or otherwise.
As for battery life, it depends heavily on the camera settings you choose, but it's not uncommon for a trail cam to run for months on end.
Most of the best cellular trail cameras even show the battery level via the mobile app.
Which Accessories Should I Buy?
In all honesty, this depends entirely on your particular use case.
If the camera is going to be mounted somewhere with a high risk of theft or damage, you should strongly consider a bear box.
Depending on the model and bundle you're buying, getting some authentic, reliable SD cards could also be a smart move.
But if your trail cam comes included with sufficient storage and is installed in a secure area, there is no immediate need for accessories.
What Is The Difference Between Cellular Trail Cams vs. Wireless Cams?
Cellular means that the unit is transmitting data via mobile cell towers.
On the other hand, Wireless refers to Wireless Fidelity as in your WiFi network.
Additionally, such cameras are also available with Bluetooth connectivity.
That said, a cellular trail cam is vastly more flexible in terms of range – which makes it perfect for remote locations.
Conversely, if you just need a home security camera, a wireless trail—or dedicated surveillance camera would be a better option. 
Final Thoughts
And that was our top picks of the hottest offerings in the trail and game camera space – and their respective edges and shortcomings.
Now you also know the answers to the most commonly asked questions regarding cellular trail cameras.
No matter if you're looking to monitor a feeding spot, a mineral lick, or a game trail – there is a proper camera to suit your unique needs.
As a bonus tip, you can use this free tool to check which provider has the best coverage in the area where you plan to set up a trail cam (the US only).